Permanent Lifting magnets aka manual lifting magnets, include our BHP, BHP-HT & BHP-TF. These are mechanically activated PLM's. No Electricity required.
There are no permanent magnets in an electromagnet. A magnetic field is created when an electric current passes through a coil. Great option for scrap handling.
If you are looking for an extra safety element, then an electro-permanent lifting magnet could be a good choice. Electricity is only needed when magnetizing or demagnetizing.
Permanent LIFTiNG Options
A Braillon Magnetics classic. The BHP permanent magnet is our German made lifting magnet with lifting capabilities of up to 11,000lbs (5000kg)
BHP-HT magnets can operate in high temperatures of up to 480°F (250°C). Lift up to 880 lbs (400kg).
Specially designed for lifting of thin sheet metal. A special pole shoe allows the BHP-TF to provide low magnetic field for thin parts.
ELECTROMAGNETIC LIFTING OPTIONS
For lifting of small bulk material or steel plates, Great high holding force on flat materials, just make sure the part is bigger then magnet.
Integrated controls on the K series allow the operator to turn on or off the magnet on the magnet with ease. 230V.
The EMR electromagnetic bipolar system. Check out our many sizes and options are available., or customize them.
Electro-permanent Lifting options
Braillon magnetics has perfected the Electro-permanent lifting system over many years. Take a look at the heavy duty lifting magnets EPN Series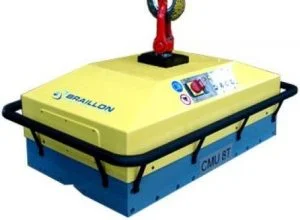 Need more flexibility around the shop or the yard? These Electro-permanent battery powered lifting magnets are a great option. Up to 8 Ton!
Electro-permanent magnetic lifters type PEPi have integrated controls on top of the unit. No need for remote controls. Just plug and play.
MANY MORE CUSTOM MAGNETIC LIFTING SOLUTIONS
We can customize any of our magnets with spreader beams. This one has 2 of our permanent lift magnets type BHP. Easy to operate.
If you are looking to lift a part into a vertical position with your magnet. We have special attachments to customize the magnet.
The world of automation keeps growing everyday. Customers require custom a end of arm tooling solutions. The PEP EOT is a great option.
Master Control units
MASTER CONTROL UNITS FOR ELECTROMAGNETIC AND ELECTRO-PERM MAGNETS
LIFTING MAGNET TESTING
SEND US YOUR MAGNETS FOR ANUAL TESTING & CERTTIFICATION. WE CAN COME TO YOU AS WELL